When C and I stumbled upon DirtyDonut's photography we were titillated and delighted — we were drawn to the playfulness… and stickiness! So of course we had to reach out to him to ask a few questions about his process and his interests.  We hope you enjoy the "doughnudes" as much as we do!!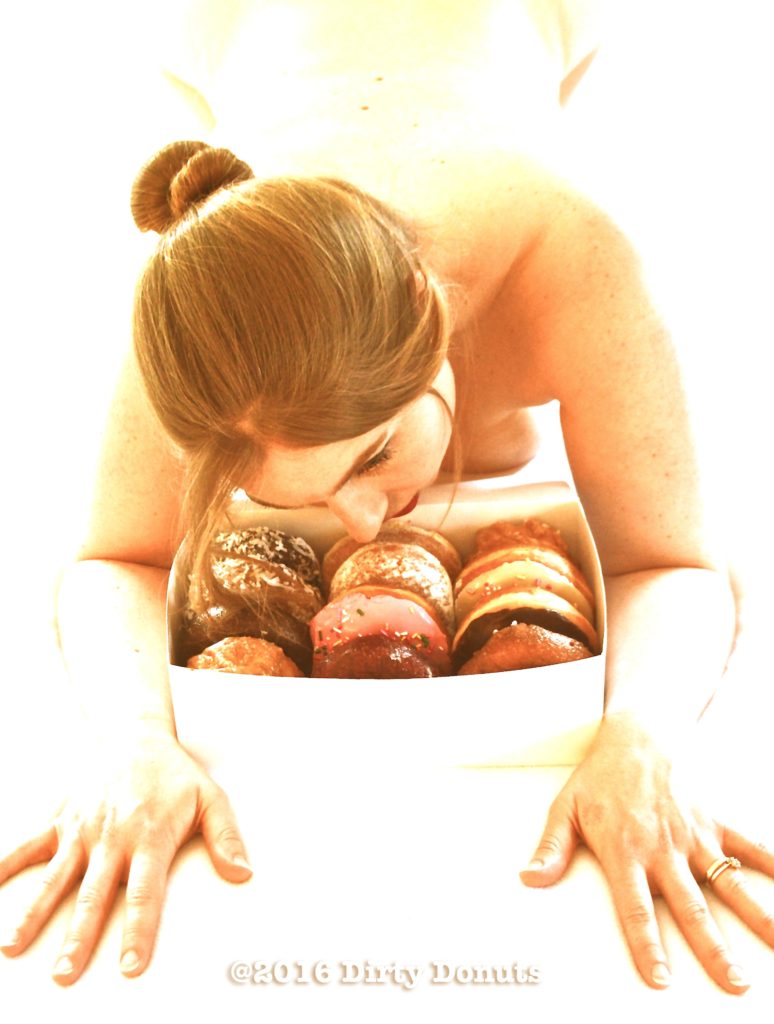 I was very excited that you inquired about the doughnut photography, which I sometimes refer to as "doughnudes" or "dirty donuts."  And I was happier still it was you who reached out.  Although I haven't partaken in any of your offerings, I very much like your approach and genuineness.
My photography allows me to explore two things that are close to my heart: doughnuts and the human form / sexuality.
My artistic background is largely sculptural (ephemeral, such as snow, ice, sand).  And I travel the world sculpting during my vacation time.  But I was a photographer first, and hung it up over allergies to darkroom chemicals.  I rediscovered my love of photography in the past few years going digital.  My love of doughnuts is really second to none. I make them, eat them, travel for them (having been to over 670 independent shops. I see myself as a doughnut ambassador of sorts. And one of my photographic series is entitled " Donuts &…" in which I pair doughnuts with various things – miniature figurines, vehicles, and…bodies.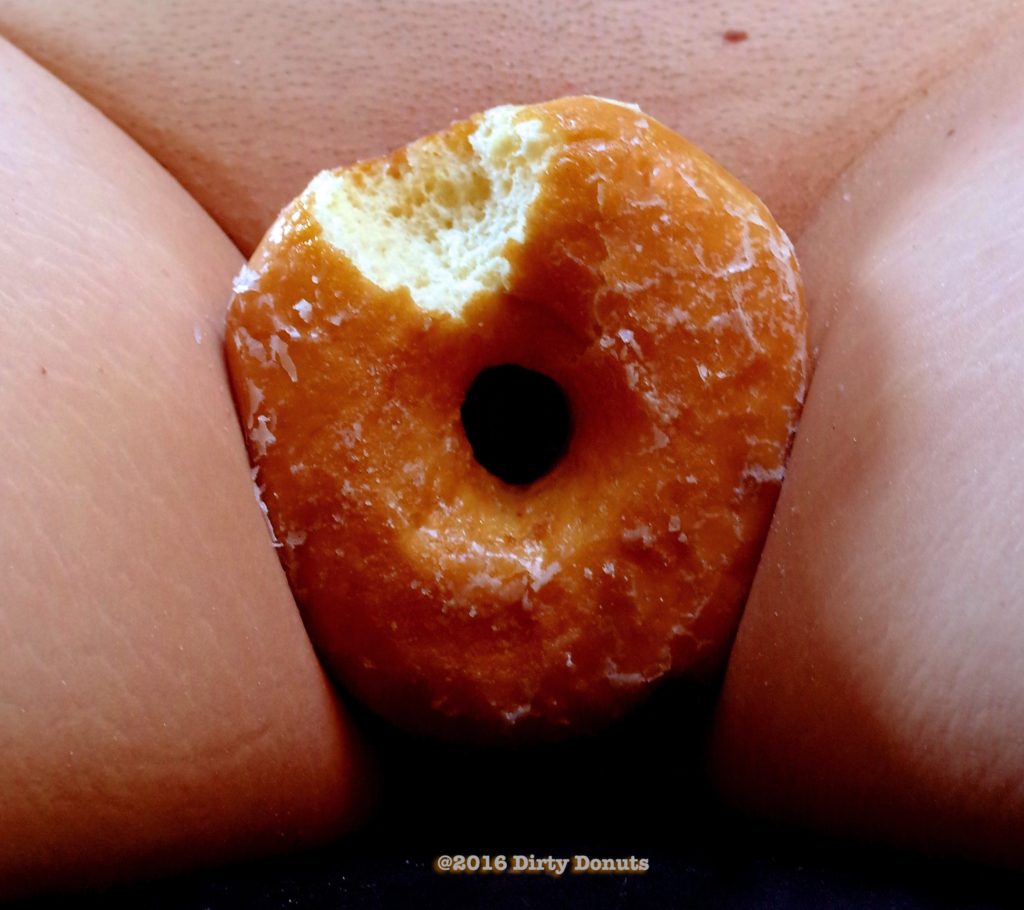 As for the alternative lifestyle, my FetLife profile lists my broad interests, but doesn't define me.
It is a wonderful community, which I find encouraging and inspiring.  And it has given me an opportunity to grow, experience, learn and share. Some of that is through photography, but it has largely been through conversation and friendship.  I need that to feel comfortable exploring.  
Regarding the doughnude process, it is meant to be entirely collaborative and fun.
I welcome folks of all shapes, sizes, colors, ages, orientations, identities, and assemblages. And I am open to featuring doughnuts with bodies or body parts (accentuating curves, shadows, etc.), as well as most fetishes or forms of sexual expression. A lot of thought goes into choices of doughnuts, apparel, props and scene-setting. And in that respect, I welcome collective brainstorming with the folks beforehand, and spontaneity during the shoot. Oftentimes, we select the doughnuts together, picking just the right colors or textures. For me there is liberating excitement standing at the counter, envisioning where and how the doughnuts and collaborator may be posed. I feel that way behind the camera, too.  But more exhilarating is creating a beautiful photograph together, and helping turn folks' doughnut fantasy (tame or not) into reality.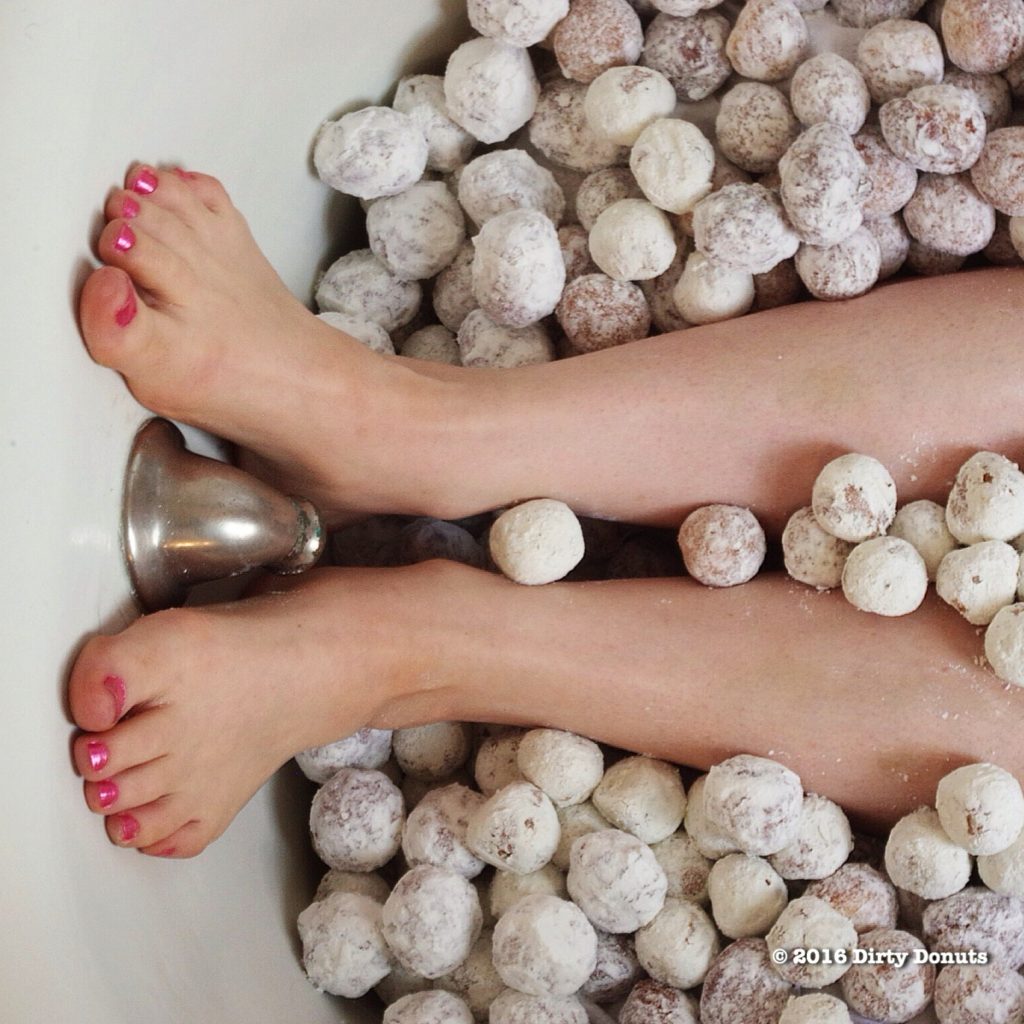 All in all, the lens is a wonderful portal. It affords a chance to interact, grow, and capture people's sometimes artsy, sometimes playful, sometimes sticky self-expression.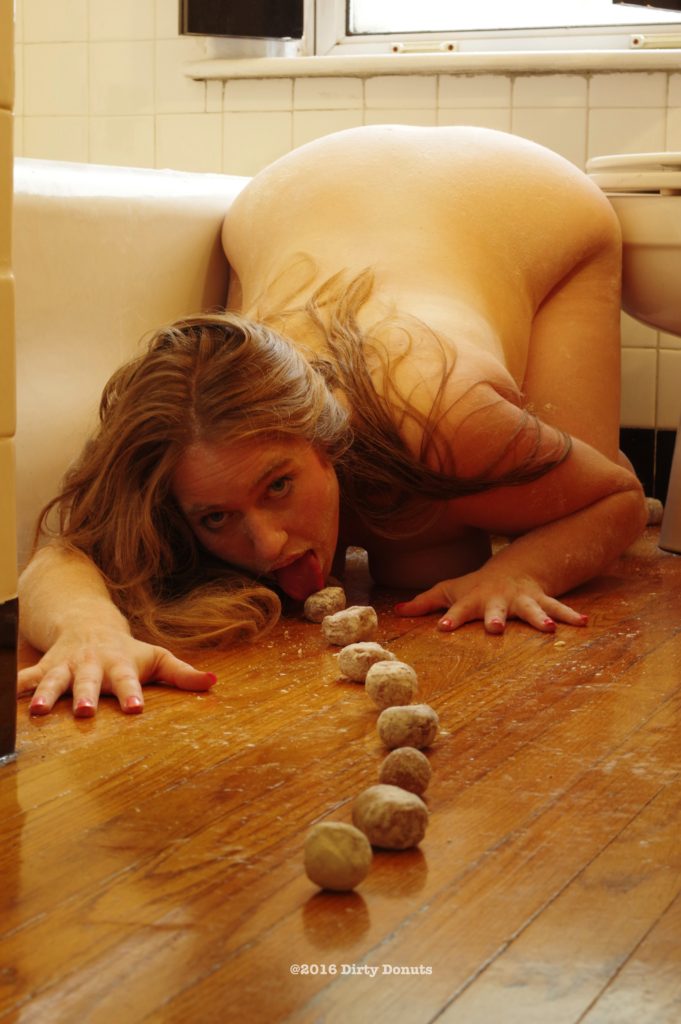 For more information and to collaborate, you may contact DirtyDonut on Fetlife.
DirtyDonut's beautiful accomplice for these images is Jupiter's Slut, you can see more of her and her Orgasm Advocacy on her site!
Thank you DirtyDonut for sharing — we're eager to see your future work!