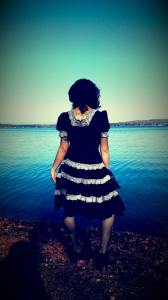 Wow!
I'm thrilled to say that the whole night was extraordinary.  Not only was the performance a hypnotically enthralling experience, but the whole evening was a pleasure.
After being tended to with cheeses, fruits, snacks and drinks, the Queen's audience lounged amidst the pillows to take in the show.  The Swamp Queen was adoringly fanned (as in: with a huge decorative palm leaf) by slave beam throughout the performance.  Her switchy Master/slave tended to her with drink and refreshment between songs.  The all-around bedazzlement was pretty apparent.  Afterwards, as we mingled and chatted about life and kink, conversation turned to various sensations, and curiosity about violet wands prompted us to join our hands and bodies together in various human chains and circles, applying sparks to one another through metal implements, body parts, and fingertips.  Amidst sparks and laughs, we shared all sorts of wild experiences and ideas…
We put some thought into making future performances even more delightful, and naturally the Swamp Queen will be warmly welcomed back in the future for an encore performance… and for all sorts of occasions!
For today, my mind is aswirl with a parading echo of her songs, a delighted smile dances on my lips, and my chest throbs with appreciation for the incredible presence of the Swamp Queen and the wonderful people to make the experience so special.