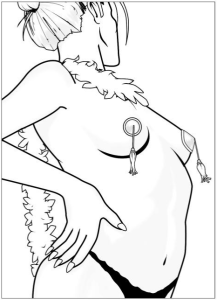 We were tipped off to this boob-centric coloring book by Kink Studio friend princess poof.
What a description!:
A fun, interactive gift book for adult, this coloring book is filled with every variety of alluring, healthy, happy female pulchritude: big, bigger, buxom, cantaloupes, torpedos, milk jugs, side boob, underboob, and much more. Showcasing the work of two talented artists, these line drawings also feature character boobs: a showgirl, pirate, cheerleader, goddess, hot teacher and much more.
We noticed that this is also available for Kindle.  Be careful with those crayons and various decorative substances, everybody!