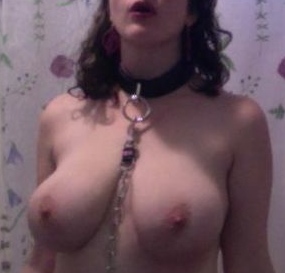 Who could have guessed that I — an independent, domineering, and queer feminist — would find being slapped, restrained, held down, paddled, and collared so exhilarating.  As I came into deeper physical and psychological aspects of kink, I realized that I needed to be a sub to be a better Domme.  I needed to feel the lick of a whip before I could properly whip.  Therefore I put up my radar to find a Dominant mentor.  Then, luckily, Master C came into my life: first as Sir and then as my Master.  As his fuck slut / big-titty whore / slave lips, one of my favorite things is being collared…
Master had me wear the studio collar out to lunch the other day and I was met with longer looks than usual as my breasts jiggled in a revealing red dress and my collar jingled as I walked in my clicking heels.  The only person that said anything was the cashier and she commented, "I like your collar!  I usually only see them at raves."  I touched it and replied, "I like wearing it."  After Master and I got back to Studio C he said, "I really like what she had to say, and also your response."
And I do like wearing it: I even feel slightly less important without it on.  It represents devotion, submission, and pleasure to me.  Whenever I arrive at Master's studio I am eager to have him place it around my neck, to tug it and move me around.  Then I frown as he removes it at my departure, because it's not just about the object — it represents that my time in his immediate grasp has come to an end.  The immediate Studio C family and their friends have made me feel at home.  I have also felt enlivened by the creative thinking and endeavors that Studio C espouses. Nowhere else in the world can I be my true slutty, submissive self — and also feel the utmost respect.
One of the most challenging things about being a slave has been reconciling my feminist views with being in a D/s relationship.  From an outside perspective, certain play or actions can look like oppression.  However, C is also a feminist and thinks these things through and it comes down to consent and choice, which I have given him: down to my sluttiest of molecules.
I feel close and protected by C, both because of his desire to own me and also from his desire to foster my true self.  The parts of training that resounded the most with me happened when we were together: the discipline of address, positions, postures, and taking pain as discipline or punishment were some of my favorite parts of training.  I appreciate C's ability to combine a lesson with the erotic, and also make training sensual… as well as formal.  This is the most formal relationship I've ever entered; and it by no means makes it abstract or superficial, but pleasantly ritual-oriented.
I am also looking forward to further growth and depth of my submissive self with the guided and commanding hand of Master C.  I have recently moved far away from his immediate touch, and I am both anxious about this time and excited about the changing season we'll weather together.  But I have felt his commanding presence from afar and can see my slave self growing and maturing as this season continues to present fun, kinky adventures we can both share in.