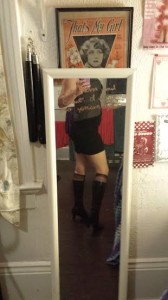 Hello Dearest Master,
I miss you ever so much, and your commanding caress.  But I appreciate your guiding hand from afar, as I wear a collar whenever I cum: with my own hand or the help of others.  I also enjoy how much you foster my truest slutty self, by allowing me to have erotic adventures with others and giving you reports along the way.
The above outfit was for the bi-weekly lesbian dance party in Nola, called Deep Lez and it's held at a dive bar called Big Daddy's.  This Tuesday I was going to spend the night in my sweats and with a cup of tea, but I woke up at 1 am and decided, "Why the hell not?"  I put on this number and sent a sext to a new fuck buddy, "I guess I will take this out for a strut."  I showed up at the bar and began the game of making eyes, strutting, and eventually gyrating among a crowd of queers.  My black skirt inched up and I smiled as the wetness of my cunt was felt on my thighs, as I had no underwear on to catch my moistness.
 I made a beeline for a person I've had my eye on for weeks, but soon she was taken by a petite bombshell.  I then saw this lovely character — baby dyke, curls, and nerd glasses — sitting alone and sipping on a whiskey.  I went and asked her for a dance, and soon we were laughing and exchanging stories as we cut across the floor.  We took a break outside for some air and smokes, which resulted in intelligent, witty conversation that flowed between our energy.
I then saw a lovely individual in cheetah print shorts cross the road towards us and I yelled out, "Hey you!  In the cheetah dots!" She came over and joined us in our pow-wow: and soon our conversation went from kink to evolution to bike riding across country.  My witty companion wrote down her information, but bid adieu.  I invited my cheetah short companion home for a "night cap".  We laughed and created some lovely erotic sparks until the sun came up.
And you know what I was wearing the entire time: from the moment I set foot on the dance floor with no underwear on until I was coming again and again with my cheetah short friend?  I was wearing Master's away collar around my neck, reminding me that I am a fuckslut: but an owned one.  And I wouldn't like it any other way.
xxx,
lips