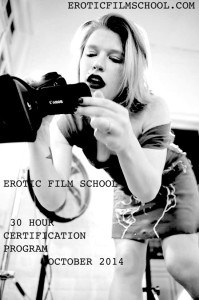 Ooh!  Here's a nice little workshop coming up, by Madison Young:
You are receiving this email because you have attended a workshop event with extraordinary Madison Young.

October 3rd, 4th, and 5th she is back on the East Coast to teach you even more with the Erotic Film School. Over the course of 30 hours spread over three days, the program will walk participants through every step of production. From the development of a narrative and shot list to creating a budget and booking/collaborating with models and crew.

We would like to thank you for coming in the past by extending the early bird offer just for you until the end of June. Sign up on the website
Time to create some wonderful film, wonderful pervs!
Madison is a great friend to the studio, a warmly welcomed collaborator here, and we're thrilled at her tremendous impact.  Don't forget to check out her wonderful LGBTQ & allied community, Femina Potens.