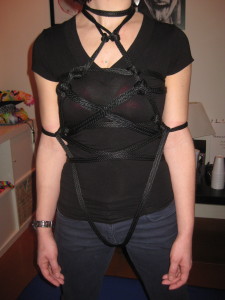 It was a delight to get the Noho Rope Group together at The Kink Studio last night — with great thanks to swanwithsass — and tremendous fun to see everyone tying each other up!
After some appetizers, we gathered atop comfy futon mattresses, bondage bed, yoga mats, etc.  We used all kinds of rope — studio rope, stylish rope, even homemade rope — and showed each other various ties.
As the evening progressed, discussion covered all kinds of things. It turns out that penguins are ticklish.  It would seem that people do yoga along with their dogs.  And it would seem that all kinds of themes may be explored in our upcoming monthly Noho Rope Group meets.
What kinds of rope group themes interest you the most?
[yop_poll id="1″ tr_id="favorite-rope-group-themes"]
Keep an eye out for upcoming events by: