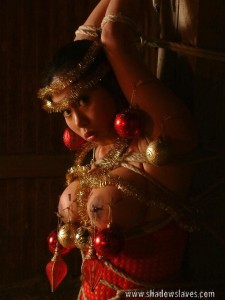 We Kink Studio members love celebrations!  You may have also noticed that we also tend to get pretty playful.  So why not share that with the world, this season?
On Thursday, December 19th, we'll be crankin' up the joyous tunes and decorating a lovely, wriggling  tree.  (Since our tree, slave beam, has served wonderfully as a piñata in the past, I have no doubt that she'll take to this sort of decoration beautifully as well.)  And goodness, she is a merry one.
Here are some of the festive adornments we've got planned so far:
tinsel and streamers affixed by clothespin
a spreader bar on the ankles to ensure a wide tree base
festive bondage tape wrappings
red and green rope harness patterns
and other things that you think up!
We're keeping it casual.  Whether you've been here before, or simply want to check things out and meet a few fun folks, we're open to the company.  We'll have some festive refreshments, and welcome additional decorations from any holiday persuasion.
Looking forward to sharing some cheer with you!
[panel text="Hope you can make it!  Curious to hear about any such decorations of your own…"]
(Demonstrative photo credit: Shadow Slaves.  It'll look something like that, but probably a bit more smiley, with lots of masochist giggles.)