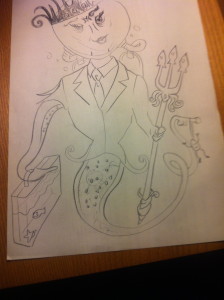 With a little bit of teamwork, slave beam and I passed this fine image back and forth a few times and let it evolve, "exquisite corpse"-style.
It includes:
A tentacle trident
A prehensile dildo tail (referencing a super-serious previous conversation, of course)
A briefcase containing golden-shower fish
Dangling cohort: Mr. Egg
The waitress seemed impressed at how we used our time waiting for our seafood.