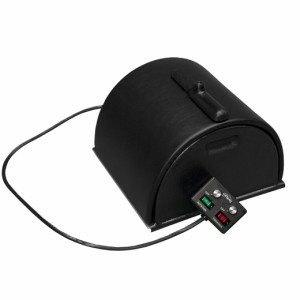 A play parter paid me a visit here at the studio, and her rolling luggage contained a rather special device: her Sybian.
It is a lot of fun to have control over those dials and switches — for intensity of vibration and speed of gyration — and enjoying the responses and interactions is especially delightful.  (A favorite moment: when the intensity of my dialing caused such thrashing that she accidentally hit the "off" switch, I teased that it was her desire, and flipped that switch off diabolically at certain key moments thereafter.  How meeean.)
Of course, a Florentine flogging along with pleasuring from "the most powerful sex toy on Earth" is not a bad combination.  Every spasm of pain was met with wild undulations of pleasure, and it was an exhilarating dance to lead.  I think it is safe to say that a great time was had by all.
It caused quite the stir.  And quite a buzz.  And: both at once.